Agrestic Community Overview
Custom, Luxury, Eco-Friendly smart homes are now available in the community of Agrestic. This is a rare opportunity to own a nearly net zero, luxury smart home surrounded by beautiful Carroll County and less than a mile to Main St in Westminster. Get out of the city and into the country. . Located conveniently on Rt 27 and just 90 mins from DC and less than an hour drive to Baltimore.
This 23 home community will add just 2 homes per year. The time to take advantage of this rare opportunity is NOW!
These insulated concrete homes feature Pella smart windows, Geothermal heating, Smart Water Monitoring and best of all, it comes ready to go with Fiber Internet. And your solar powered, Tesla Power Wall, will help make your energy bill disappear!
These unique and one of a kind homes are each designed by a different architect and carefully planned to flow with the natural topography.
Agrestic is a community of luxurious living and will only be available to a lucky few. Just 23 homes will go into this community and the time to act is now! Every detail has been meticulously considered in these modern, sustainable and luxurious homes. Come live in a -bespoke luxury home built above and beyond international building codes and designed for the future. To secure your lot call Atlas Premier Realty today at (443) 487-6410 and get ready to come home to Agrestic.
Neighborhood
Streets will be asphalt with concrete curbs and sidewalks. 23 Homesites ranging from 1 to 5 acres. Most lots are right around 1 acre surrounded by land preservation.
Specifications
All homes will include:
ICF or SIP construction
Tesla Solar
Tesla Power Wall
Standing Seam Metal Roofs
Pella Windows
Pella Sliders
Solid Doors
Hidden Hinges
Custom homes available, but must meet design aesthetic of community.
Minimum sq/ft 2500 sq/ft.
Basements available.
Carbon Footprint
Every tree that was cut for the community will be replaced. Every linear foot of wood used for construction will be replanted. A true net zero community.
Availability
First three homes have been designed. Homesites 1-5 can be sold now. Approximately 2-3 homes can be built per year. Each home will be designed by one of 5 architects.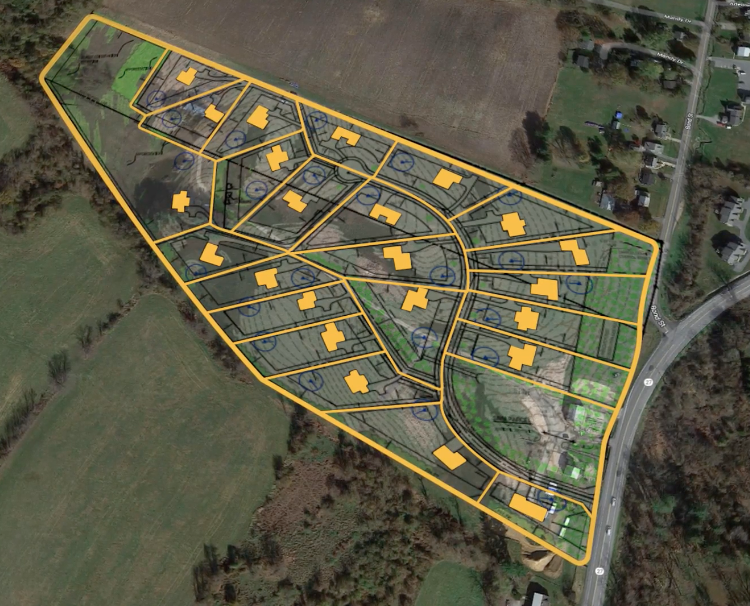 Contact Us For More Details on the Community of Agrestic